Olympic Gear Products has been manufacturing this compact heavy duty gear box since 1972.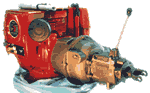 This transmission has most likely surpassed all endurance records on any other gear box in its class during its 64 years in field service. Base on its excellent field history, well informed manufacturers continue to demand this unit as their prime choice of power transmission for their new product lines.
OEM's such as Power King Tractors, Speedex Tractor, Kimball Products, Electric Eel, Toro and others, have been benefiting with this products quality and durability originally incorporated in it's original design.

Our focus is the success of our customers products and satisfaction of the end user. Providing engineering assistance from your product conception to production and continuing through field service. Designed with High Quality, Longevity, and Durability our BT-92 gear box is ready to exceed your requirements. Competitively priced, this unit offers an economical option to your products drive train.

Olympic Gear Products, Inc. is dedicated to our customers satisfaction in all areas from design to performance.
For more information please contact us
Phone: 330-425-4112 Fax: 330-425-7602